Polysomnography
Learn about sleep disorders
Polysomnographic Technologists work with physicians in state-of-the-art medical facilities to diagnose and treat over 90 different sleep disorders. The responsibilities have grown over the past few years and the knowledge required to work in this field has grown with it.
To continue providing a high quality of education in this field we are changing how we offer the program.
It will no longer be a separate program but instead become part of the Respiratory Care program at Highline College. This will provide students with the solid respiratory foundation that is now needed in the field of polysomnography.
Polysomnographic Technology is a new, rapidly growing health related field dedicated to the study of sleep disorders. With millions of people annually being tested in sleep laboratories and few formal training programs nationwide, opportunities for qualified polysomnographers (sleep study technologists) are outstanding.
These health care professionals assess patients and prepare them for sleep studies. Technologists operate, monitor, and troubleshoot highly sophisticated sleep computers to analyze sleep patterns. Technicians monitor simultaneously EEG (electroencephalography), EOG (electrooculography), EMG (electromyography), ECG (electrocardiography), multiple breathing variable and blood oxygen levels to aid in diagnosis.
Technologists also provide supportive services related to the ongoing treatment of sleep related problems. The professional realm of this support includes guidance on the use of devices for the treatment of breathing problems during sleep and helping individuals develop sleeping habits that promote good sleep hygiene.
Polysomnographic Technologists are detail oriented, able to use critical thinking skills and enjoy working with people.
These technicians make a difference by using their specialized skills to help physicians diagnose and treat sleep disorders.
Association of Polysomnographic Technologists
One Westbrook Corporate Center
Suite 920 Westchester, IL 60154
Phone: 708-492-0796
Currently the Polysomnography program is being restructured. Details will be posted when available. If you have any questions, please send us a message using the form below.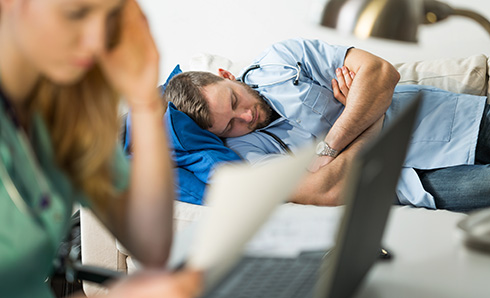 Faculty Adviser